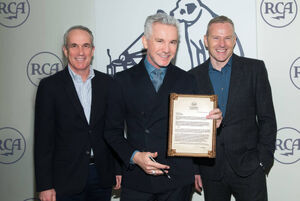 Bazmark Records is a newly created recording label by Baz Luhrmann for the "His Master's Voice" label in partnership with RCA Records. The exclusive, worldwide, and multi-tiered agreement is supposed to establish RCA as "Luhrmann's creative, marketing and distribution partner on his label's recorded music endeavors. The deal will also include the potential of jointly acquiring the rights to additional recording projects as well as signing new artists under Bazmark Records / RCA Records." [1]
Baz's music-centered drama series The Get Down for Netflix will be one of the label's first projects for this partnership.
References
Edit
Ad blocker interference detected!
Wikia is a free-to-use site that makes money from advertising. We have a modified experience for viewers using ad blockers

Wikia is not accessible if you've made further modifications. Remove the custom ad blocker rule(s) and the page will load as expected.